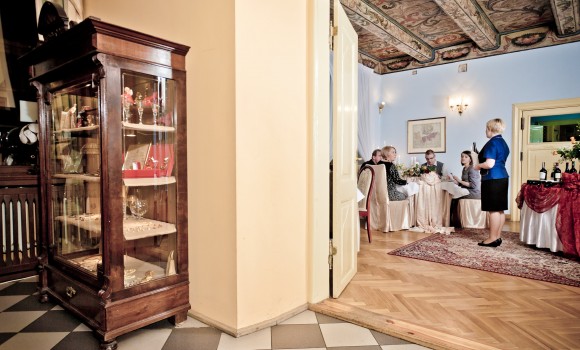 From the 1920's till the end of the Second World War, a marvelous cook, Pelagia Gawrońska, was the true  ruler of the castle's kitchen; Her Kitchen! All the fruit and vegetables from the castle garden were delivered straight to her door, and fantastic examples of local game were provided by the passionate hunters, the four sons of old Count Döring.
These days the  culinary traditions of Pelagia continue with game as the main ingredient of the delicious dishes cooked by our chef. Guests are invited to experience an unforgettable international journey through the land of flavours and aromas of traditional Polish and regional cuisine – appetising starters, tasty soups and main courses, excellent desserts.
The gastronomic delights all take place in the relaxed surroundings of the unique Castle Dining Room with  its original multi-coloured seventeenth century ceiling.
Restaurant is open:
from 1:00 p.m. to 6:00 p.m.